One of this season's hottest trends is the plus size bikini. While there's been much (and we mean MUCH) discussion about the merits of this trend, we here at TBF think it's one trend we think plus size sisters should embrace. Why is it okay for a 90 year old man to wear a thong speedo, but not for a plus size woman to wear a tasteful, stylish bikini?
This post may contain affiliate links. See our privacy policy.
So, to celebrate the democratization of the bikini, we offer up tips on how plus size fashionistas can rock the style (on a budget of course).
How to Wear a Plus Size Bikini
1. Look for Halter Tops for Extra Support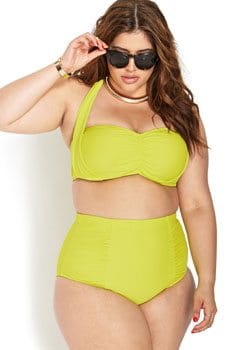 Bombshell Bikini Top, $12.80 from Forever 21
If you're a bit heavier on top, look for a halter bikini top that provides extra support, without digging into your shoulders. If you're a bit lighter on the top, halters are also a great option because they help create cleavage. Also halter tops elongate your torso by extending the line of the swimsuit upwards.
2. Higher Waisted Bottoms Provide Coverage and Shaping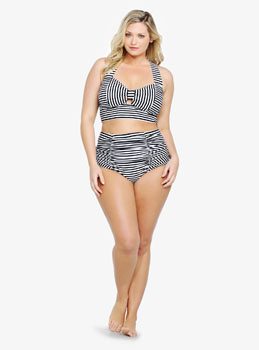 Striped High-Waisted Swim Bottom, $38.50 from Torrid
Higher waisted bikini bottoms provide extra coverage (and shaping). Look for briefs that fully cover your backside and, if you're concerned about your stomach, look for briefs with control panels in the belly area.
3. Ruching is Our Friend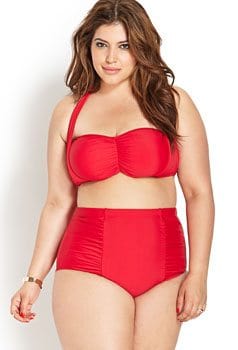 Bombshell Ruched Bikini Top, $12.80 from Forever 21
Ruching, the gathering of fabric into folds, smooths out any "lumps and bumps". The key is to look for ruching in "problem" areas, like your tummy area.
4. Use Prints Wisely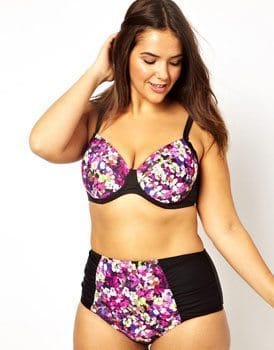 ASOS CURVE Exclusive Plunge Bikini Top In Pansy Print, $19.05 from ASOS
Here's a general fashion tip, where ever you put a print is where the eye is going to travel. So make sure you pick a bikini that has the print in an area you would like to highlight and a solid color in any "problem areas".