This post may contain affiliate links. See our privacy policy.
Cropped sweaters are among the garments that tend to look really cute and stylish on celebrities, but seem decidedly less practical in the real world. But they're out there, taking up space on the racks, so there has to be some way to wear them, right? In a word, yes.
You absolutely can learn how to wear a cropped sweater confidently beyond the age of 23—without feeling too flirty or too silly. Try these essential styling tips to get in the cropped sweater game.
How to Wear a Cropped Sweater
1. Layer it strategically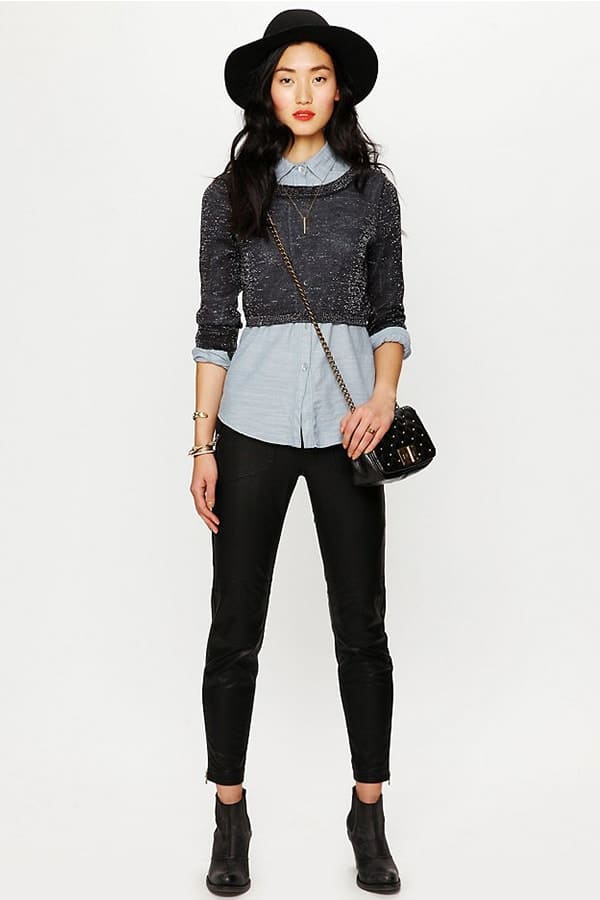 In what world does a cropped sweater pass muster in an office? When you wear it as a layering piece, of course. Slip it on over a longer button-down shirt. It's a brilliant trick, as you end up with a mixed media look that's still cohesive. You could even add a blazer for more depth (and warmth).
2. Add a dress
Pull your cropped sweater on over a sleek sheath dress for a fresh take on your corporate look. This outfit also makes a seamless transition to evening—just add a statement necklace and a bold clutch.
For maximum impact, try something in a different color from the dress. This Free People V-Neck Sweater is versatile enough to pair with almost anything.
3. Wear high-waisted pants
If you're concerned about the gap between the top and bottom, one way to make up for the shorter sweater is to wear taller pants. A high-waist silhouette is very flattering with a cropped top, especially when you opt for something with a flowing leg for a more balanced look.
Try this BCBGeneration Striped Cropped Sweater with your favorite black pants for an easy, fun look.
4. Try a cropped cardigan
You aren't limited strictly to pullovers. You might favor the ease of a cardigan, or have a tough time figuring out the most flattering way to wear a pull-on silhouette. Cardigans are considerably simpler to wear, as you can easily layer them over anything from dresses to longer shirts.
The Amelia Crop Cardigan from Boden is an enduring favorite.
5. Go for glam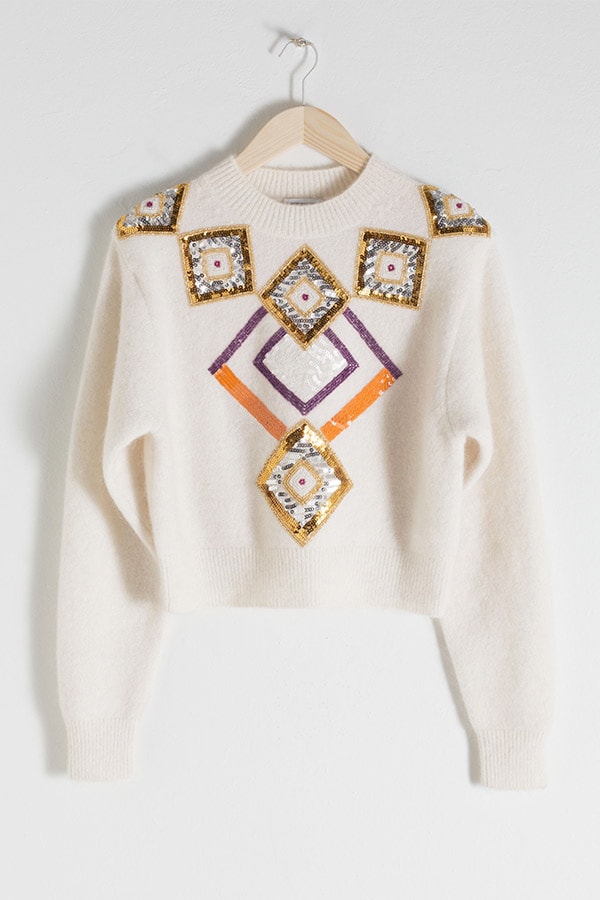 Embrace the prospect of full-on glamour in this embellished option ($64) from & Other Stories. The delicate sequins and eye-catching geometric design make it the ultimate statement piece to pair with a high-waisted denim or leather skirt and a pair of suede booties. Onlookers will be so mesmerized by the sweater that they won't even notice if you have a hint of skin showing.