Q: I am a plus-size bride in dire searching for beautiful cheap plus size wedding dresses. I live in the New York area and everything seems to be in a size two.
This post may contain affiliate links. See our privacy policy.
A: There are many options out there for brides on a budget, including plus-size brides. The key is to NOT look for wedding dresses per se. It's like the addition of the word "wedding" automatically increases the cost of the dress by 1000%. So, if you're looking to score a brand new traditional princess type wedding dress, expect to spend at least $300. Now,if you have some flexibility, you can find great dress options for well under $200 (and in some cases under 4100).
Check out a few of these options for a non-traditional approach to finding your perfect dress.
3 Options for Cheap Plus Size Wedding Dresses
White Gowns as Wedding Dresses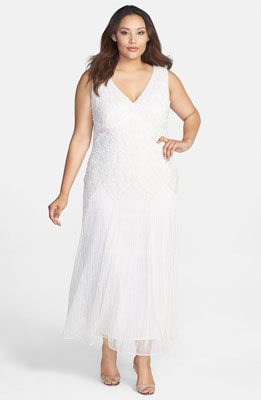 Pisarro Nights Embellished V-Neck Long Dress from Nordstrom
Online regular shops like Asos, Kiyonna and Sonsi have great gowns, in white, that can be used as wedding dresses. Online bridal shops like CocoMyles and Watters.com can offer a wide range of sizes and cheaper prices because there is little store overhead. Also try eBay, which has a huge selection of plus-size bridal gowns, some new and some not so new.
When using eBay, make sure you ask for several pictures of the item and purchase with a credit card that has buyer protection—not a debit card. That way, if any problems develop, you might be able to get a refund from your credit card company.Even check major department stores like Nordstrom, which sell white dresses online that could definitely double as a wedding dress.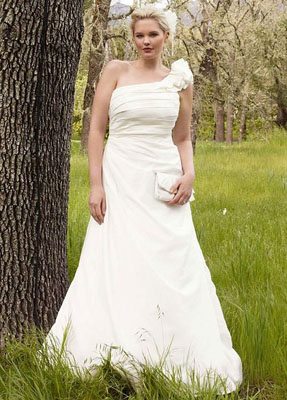 A-line Taffeta Gown with One Shoulder Detail
Yes David's Bridal is everywhere and is the McDonald's of wedding dresses, but that doesn't mean you should overlook the store. It's a great place to try on a variety of dress styles and one of the few places that offer more traditional, low-cost, plus size wedding dresses. Also, you can purchase a dress for cheap at David's bridal and then take it to a local tailor to "re-make" it to your taste.
Etsy & Local Thrift Shops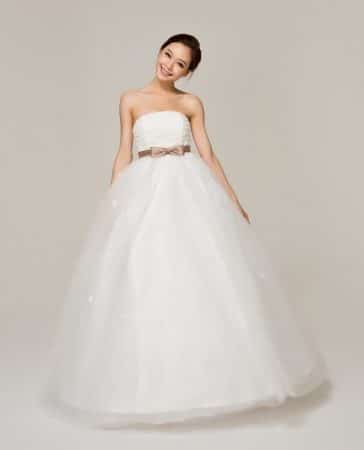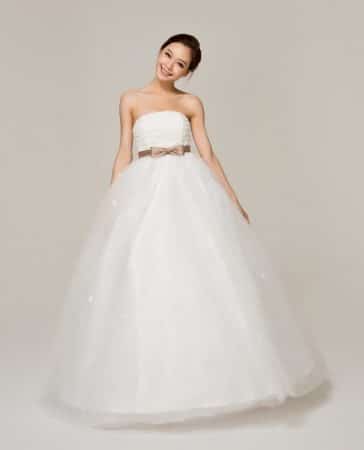 Etsy is probably one of the BEST places to find more traditional wedding dresses for cheap. Shops like DesignBridal, based outside the US, sell high design plus size wedding dresses for well under $150.
Thrift shops can be a great place to find a cheap plus size wedding dress, if you don't mind wearing a second-hand dress. It's always worth taking a look at your local Salvation Army or Goodwill stores. In New York City, also check out Housing Works Thrift Shop in Chelsea. Also check out consignment and resale shops like Michaels in the Upper East Side and Redress NYC in Brooklyn.