When I requested to write about how to wear colored jeans if you're plus-size, Kathryn and everyone kinda looked at me a little strange. Okay, a LOT strange. Basically, they thought it might be like someone wanting to write about cars who had never driven one. What suggestions could my non-plus-size self possibly offer about colored jeans for plus-size women? Plenty.
This post may contain affiliate links. See our privacy policy.
Ladies, here's a little secret: There used to be 70 more pounds of me. Yup. So I know about some of the challenges plus-size gals can face in their quest to 1. find awesome styles and 2. wear them well.
Step aside, skinny minnies; curvaceous bods can totally rock colored pants, too.
Here's how to make the look work:
How to Wear Colored Jeans
We all Love Getting Good Hues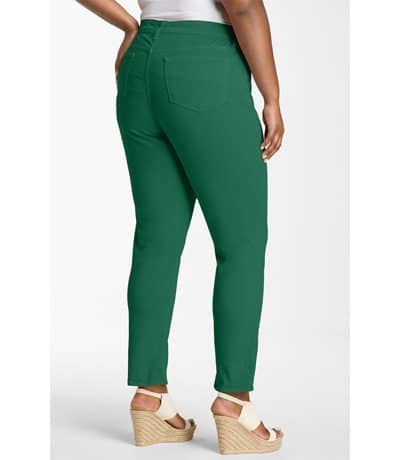 Blue Essence Colored Twill Skinny Jeans, $98 from Nordstrom
Lighter colors make anything look larger. Good for wall color in a studio apartment, not so much for the body-conscious. Stay away from pale shades like light yellows or soft peaches; we're into dark greens, deep purples and intense blues. Darker shades tend to "smooth" out bumpy spots or diminish bulges.
Throw a Fit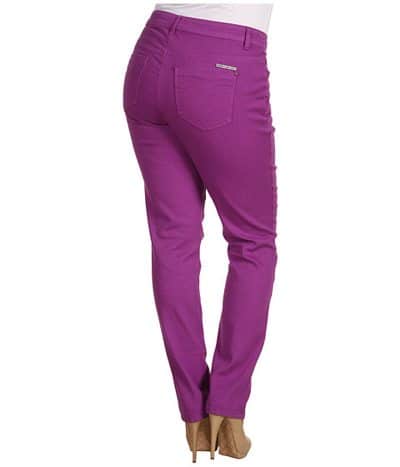 DKNY Jeans Plus Size Soho Skinny in Maui, $98 from Zappos
I don't care what style is in or what size you are, wearing the wrong size can look, well, ridiculous. I used to try squeezing my size20 self into an 18 ("oh, c'mon," I'd think, "it's just one little size smaller") and while it would work, I ended up looking more hoochie than hot, not to mention feeling very uncomfortable. And it works the other way around. Going too big hides those curves—flaunt that bod, don't cover it up.
A Flare for Style
Linen Seam Pant, $34.50 from AshleyStewart.com
We love flared legs for their ability to dress things up AND create leg-lengthening uniformity. The continuous flow of material is hip-to-toe perfection for plus-size ladies who want more leg room.
Top it Off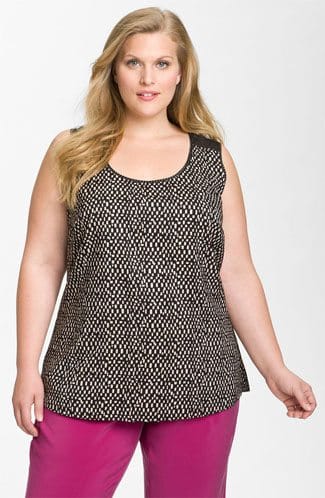 Vince Camuto Mixed Print Tank, $79, from Nordstrom
Okay, so we really want to wear colored pants, but some of us have more in the tummy department than the leg department. What to do? Thank you, thank you printed tanks (hands outstretched, repeated bowing in appreciation)! The patterns draw eyes upward and away from "problem" areas. Choose ones with material that falls below the waist for coverage in all the right spots.
Rear View Coverage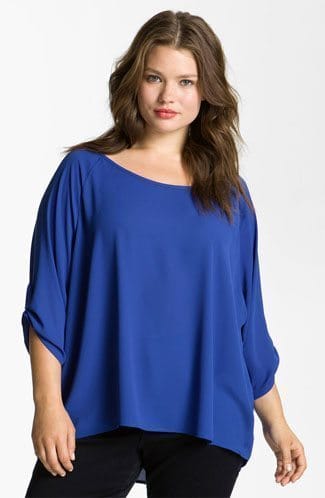 Bellatrix Tab Sleeve To, $68 from Nordstrom
Seriously, is there anyone on the planet who doesn't have SOME issue with their butt? I mean, no one I know is a butt model or strutting around in thong bikinis (although I did see an 85-year-old man sport the look at a waterpark once, but the memory still give me night terrors, so that conversation will stop right here, thank you very much).
In any event, we ALL have some issue with it and sometimes the best thing is to cover up the junk in the trunk and call it a day. Pair a hiney-hiding high-low top like the one above with colored pants and voila! Butt-be-gone.
Have a favorite pair of colored pants? Tell us about it and let us know what you do to make the look work.