Finding a bridesmaid dress for your plus-size friend, sister, relative use to be quite a challenge. Many plus-size bridesmaids found themselves wearing ridiculous extra-long, ruffled dresses and granny-looking boleros. Today, the task has become a lot easier and the offerings are abundantly stylish. If you're currently looking for some chic, stylish, and flattering bridesmaid dresses for your voluptuous bridesmaid check out our tips for finding awesome plus-size bridesmaid dresses.
This post may contain affiliate links. See our privacy policy.
How to Find Plus Size Bridesmaids Dresses
Try Department Stores First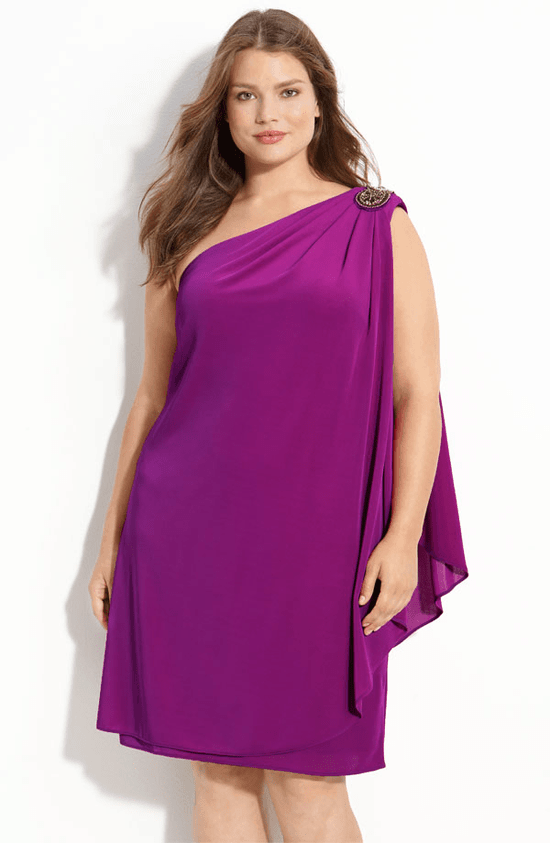 1. JS Boutique beaded one shoulder dress, $178
When it comes to finding stylish plus size bridesmaid dresses you have to think beyond bridal shops. Most bridal shops only carry up to a size 16, so check out your local department stores and their websites. Stores like Nordstrom and Macy's have their own bridesmaid boutiques within the store and they offer a wide selection of stylish bridesmaid dresses for plus sizes. Department stores also carry size inclusive brands like JS Boutique, Donna Morgan, and Adrianna Papell. These brands often carry the same styles of dresses both in plus (up to a 24W) and straight sizes. The styles are always modern and chic from these brands.
Search Sites That Allow You To Customize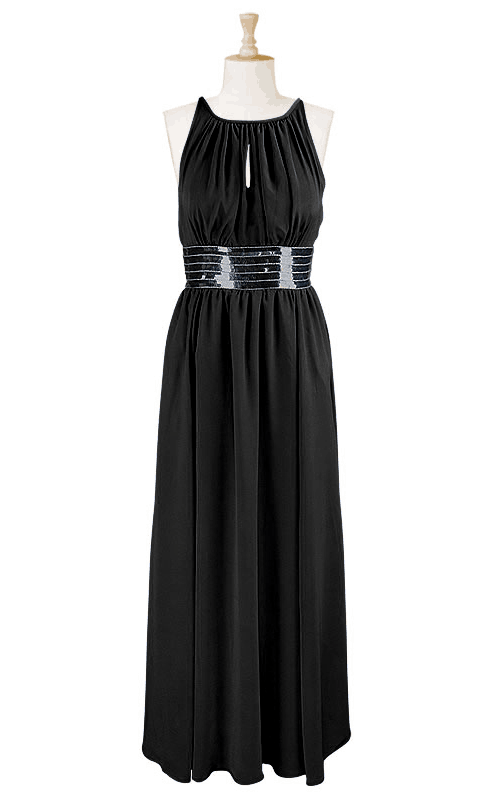 Like Burger King some online sites allow you to have it your way. You can pick out a dress and shorten, lengthen, and even add or takeaway sleeves depending on the style. One of our favorite sites for customized dresses is Eshakti. Eshakti offers a number of dresses and gowns that can be customized up to size 26W.
Order From Retail Chain Stores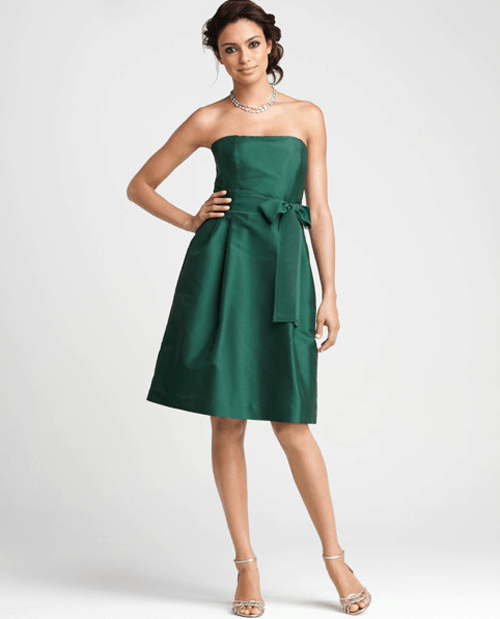 Silk Bridesmaid Dress, Ann Taylor $215
More and more retail chain stores are offering wedding apparel. Chain stores like Ann Taylor and J. Crew both offer bridesmaid dresses beyond a 16. Ann Taylor has feminine cuts and styles up to a size 18 and now J. Crew offers bridesmaid dresses up to a size 20. Yes, you heard us correctly.
Get It Made
Sometimes in order to get what you want for your bridesmaids whether plus size or not, you have to get it made. Some local mom and pop bridal stores have a seamstress on hand who will make you a dress from scratch based on previous dresses or with pictures you bring in. Sometimes a handmade dress can be a little cheaper than buying it off the rack.
Find the nearest David's Bridal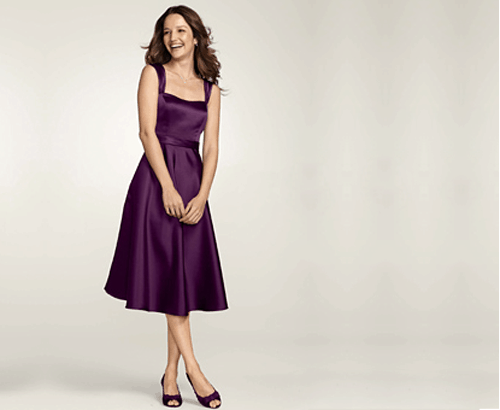 Satin Wide Strap Tea Length Dress $99
David's Bridal is not only one stop shopping for planning a wedding, but offers a wide selection of plus sizes dresses up to a size 26. They also have a number of color options too. Make an appointment and an associate can pull a few choices for your bridesmaid before you come in based on her shape.
Try Ebay
You don't always have to shop at bridal stores or go on wedding sites to find a plus size bridesmaid dress. Ebay offers a variety of plus size gowns and one of a kind dresses. It's also a place where wholesalers sell a variety of styles in a variety of sizes so if you have more than one plus size bridesmaid or an entire party of full figured ladies than you are more than likely to get them all the same dress.
When it comes to finding bridesmaid dresses for plus sizes be sure to keep an open mind. You don't always have to shop traditional places. We think that online is really the best place to find plus size bridesmaid dresses because there are more styles, colors, and of course sizes.