Back in the day (like 1988) Liz Claiborne was "dabomb.com". The brand, founded in 1976, was one of the most successful women's sportswear brands of the past 40 years. According to the site Name Wire:
This post may contain affiliate links. See our privacy policy.
Claiborne was arguably the first mainstream designer to provide working women with sensible, good-looking apparel for the office. She founded the company in 1976 and by 1988 it had a whopping one third of the American women's upscale sportswear market.
Every mall-trolling, wanna-be fashionista either had the $45, "pleather" Liz Claiborne cross-body bag (in very 80s colors like taupe and mauve) or was trying to figure out a way to raise enough funds to get one (I fell very much in the former category). For those of you not old enough to remember the 80s, you could only purchase Liz Claiborne at major department stores (in my case Minnesota's version of Bloomingdales, Dayton's).
Vintage Liz Claiborne Handbag.. Don't Judge..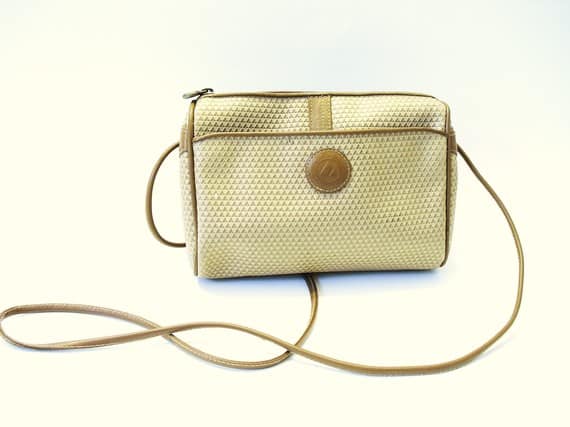 Liz Claiborne ruled during a time when women were starting to gain real traction in the corporate world and, while it may be hard to believe in this era of singular, tech-driven, entrepreneurship, young women wanted to be Melanie Griffith's character from "Working Girl"- a rising corporate titan armed with "a mind for business and a body for sin".

The rise of the tech world, with its flat corporate structure, fluid compensation boundaries and very casual approach to work attire, changed the equation, for everyone, but in very significant ways, for women. I won't go into into details, cause really it's a topic worthy of its own very long post that is totally outside the scope of TBF, but I will say that women like myself, who came of age in the millennium, have a much more fluid view of personal style. While our mothers had to wear the corporate armor, we have more flexibility and options in terms of our personal style (today I'm wearing a big purple turban and a blue/green silk dress at the office). And it's precisely these options that made it difficult for tech babies like myself to get extra geeked up about Liz Claiborne.
Understanding this, Liz Claiborne made an effort in late 2008 to revive the brand by poaching Isaac Mizrahi from Target.
Isaac Mizrahi Chats about His (Short-Lived) Role with Liz Claiborne in 2009
What should have been an solid partnership, Mizrahi's design sensibilities (affordable- J.Crew) matched Liz Claiborne's potential customer (Michelle Obamas of the world), failed due to lack of distribution (remember how hard it was to find the line?) and conflict between the brand's two stars- Mizrahi and creative director, Tim Gunn.
Isaac Mizrahi for Liz Claiborne Commercial. Couldn't you see folks wearing these looks now?
So news that the 40+ year old was selling most of it's brand to JCPenney, which is on the come up, but still is slightly below Macy's on the fashion totem pole, is a real interesting turn of events. Merchandising isn't JCP's strong suit (go into the fashion department of your local JCP and you'll understand what I'm saying), but Liz Claiborne's turn from the brand of power women to the brand of pastel comfort may fit in with the JCP customer.
Just don't expect the new generation of "Working Girls" to wear the brand.
What do you think about Liz Claiborne?