This post may contain affiliate links. See our privacy policy.
With the kiddos back in school, now's the time to focus on yourself. And one way to do that is by giving your closet a quick fall overhaul. Start by donating the old and dated. Then comes the fun part: Replenish with new and stylish clothes that are affordable, on-trend, and work with your lifestyle.
Make sure you have the essential pieces in your wardrobe first—a great-fitting pair of jeans, a midi dress you love, a white T-shirt, canvas sneakers and ankle boots. When you have those basics on hand, it's much simpler to mix in the season's trendy pieces.
Read on for six easy mom outfits that team the season's hottest trends with the essentials you already own.
Trendy Mom Outfits
Corduroy pants and tee
Corduroy is the perfect fabric for fall. It's soft and will keep you warm when the weather turns cooler. Found in everything from skirts and pants to coats and accessories, this is an easy trend to incorporate into your existing wardrobe.
Try a paperbag waist pant with your favorite t-shirt, tucked in, for a simple and chic look.
Fanny pack (aka belt bag)
If you flashbacked to the '80s right now, you'd find fanny packs everywhere. They were usually made of nylon and came in super-bright colors and patterns. Now in their resurgence, fanny packs—also called hip packs and belt bags—come in neutral colors and are made in leather and other lightweight fabrics. In other words, they're vastly more stylish than their predecessors.
When a trend pops up that's this practical, busy moms are the beneficiaries. Stash that wallet, phone and tinted lip balm in this hands-free pouch and go conquer your day!
Animal print blouse and jeans
Animal prints have been trending for so long that they've nearly reached "classic" status. Plus, they scream fall. Adding a simple leopard, snakeskin or zebra print blouse to an old pair of jeans can give your outfit the "pop" it needs. Just make sure not to go overboard. Sticking to one print per outfit is the key to making this look work for you.
Blazer plus midi dress
Whether you're a stay-at-home mom or a working mom, blazers are the perfect addition to your fall wardrobe. Available in a variety of fits (from fitted to relaxed) and styles (neutral, patterned, detailed), the blazer can dress nearly any outfit up or down.
Try a soft shell blazer over a midi dress for an easy pairing that looks super stylish.
Statement scrunchie
Another trend from the past that's back is the hair scrunchie. I know what you're thinking, but you can pull this one off without looking like an aged Debbie Gibson. The key is to use the scrunchie for low ponytails (and not for the half-up, half-down style).
This is an affordable, fun accessory that'll definitely upgrade your standard ponytail and your most casual outfits.
Pleated skirt and sneakers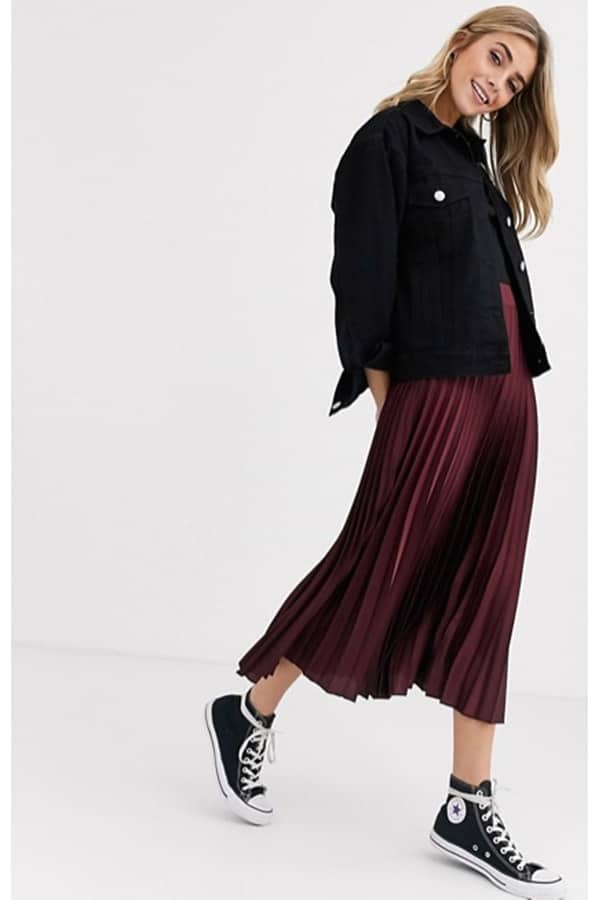 Pleats add dimension, softness and femininity to any ensemble. You can find pleats in skirts, dresses and blouses, but we especially love the lightweight pleated midi skirt. Try it with a t-shirt and canvas sneakers, and add a denim or bomber jacket for warmth.
Are you ready to give one or two of these trendy mom outfits a shot? Just be prepared—your friends may start asking you for style advice.