As someone who has yet to plan a wedding for herself, I'll be quick to admit that an evening wedding sounds rather lovely. Perhaps it's indoors and winter, or outdoors during the summer and right at the cusp of sunset. No matter how you plan it, the 6pm wedding (from a bride's perspective) sounds very romantic, and with a perfect lead-in to drinks, dinner, and dancing, I can't think of a more seamless time to begin the festivities.
This post may contain affiliate links. See our privacy policy.
And then I got an invitation to an evening wedding – which just about changed everything: As a guest…What do I WEAR?!
Images of long skirts, sheath dresses, and even pantsuits danced in my head. It's set for March, and even on the west coast (where the ceremony will be outside and the party inside), it will likely start off warm but quickly trend to freezing. And yet, who wants to fully cover up at a fancy wedding? Aside from noting to self that if I ever get married at 6pm I'll mention to guests that we will have an abundance of wool blankets available throughout the evening, I've also made this list of "what to wear" which I might consider including in the RSVP.
Wardrobe Suggestions for Evening Wedding Attire
1. Formal: This is the easiest dress-code to adhere to with the least amount of stress. Even though it's an evening wedding and you might wonder if black is OK, the answer is yes. And dress it up – note that if you opt for long, or knee-length with a shawl, you'll stay warm all night. My favorite look is subtle but stunning, and mono-toned but perfect in color.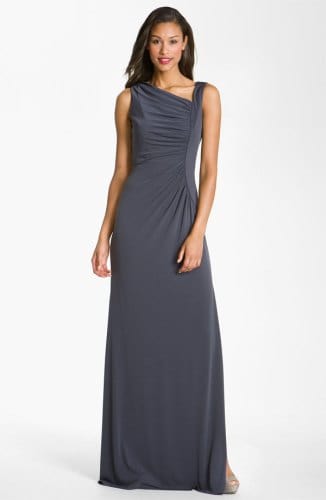 My favorite choice from Nordstrom's is $158 and Calvin Klein. The stone-gray color is perfect for evening without being too outstandish.
2. Semi-Formal: The hardest to dress for since it borders on cocktail attire – but careful, because you don't want to look like you're set to go to the club. I always recommend a knee-length dress that shows either arms or chest, but not both. And if you're wearing sleeveless, bring a shawl. Actually, bring a shawl no matter what!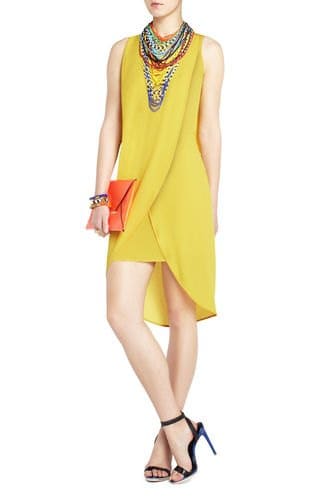 Audra Wrap Dress, $248
My ideal evening dress is from BCBG and while shows some leg, definitely leaves room for paying attention to the bride!
3. Casual: Whenever I hear of a casual outdoor wedding, I automatically assume it's set on the beach. Casual is nice because it's easy on the wallet and likely the most comfortable thing you'll ever wear to an event. Just remember that casual does not mean flip-flops nor does it mean slobby. Opt for structured and not skin tight, and you'll be sure to look a winner.
I love this color block dress from JCrew.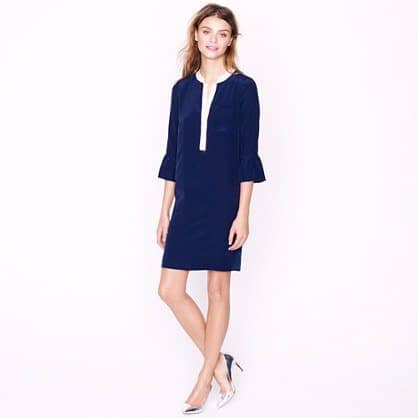 Rosie, $188
Now, for the budget-savvy: First thing first – always shop the sale section first. I've found perfect wedding attire that I've worn to other events or even just for a simple night out. Dress it up or down, that's the key, ladies.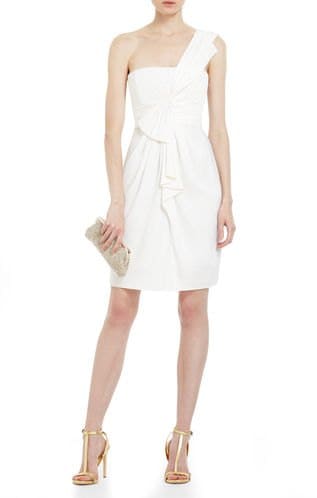 The best sales on dresses tend to be at Nordstrom and BCBG, just because the volume of turnover and designer variety. Check out this one-shoulder dress for $99 at BCBG, and this off-the-shoulder number at Nordstrom's for $75!