This post may contain affiliate links. See our privacy policy.
Glitter? We get that the sparkle is something you can grow out of. But gloss? It's the sheen that truly knows no age limit. While we've already seen the glossy look take form in dewy highlights and luscious lips over the past few years, we're pleased to report that this time, gloss is back in a big way for spring: over the lids. That's right the glossy, gleaming look that's hit the cheekbones and cupid's bow is now topping pigment-packed lids, leaving your typical shadow routine with a wet and wild finish that's oh-so-fitting of the season.
Two Steps to Glossy Lids
Veteran makeup artists have had all sorts of tricks for recreating that fresh-from-a-dip glimmer on the face and body of their models (all hail the transformative powers of Vaseline and jellies). But today's trend stalkers can achieve the coveted glossy lids look by stocking up on a new crop of products formulated specifically for the face and eye. And that means no experimenting or winging it to get that perfect dewy look and no sticky mess. Your high-impact, Instagram-worthy glossy eyeshadow is as easy as this:
Apply your shadow. Choose dark and dramatic or soft and nude, but steer clear of glitter.
Dab on a gloss designed for the face and/or eyes. See our top two picks below.
Tip: if the gloss feels weird or heavy when you blink, just avoid the crease of your lid when you apply it.
And just like that, you've got a youthful flow that anyone can appreciate. Whether you're into high-impact pigments or the clean and nude style, a little dab of gloss goes a long way to giving you an angelic, dewy gaze for all of spring's dreamy days.
Glossy Lids Must-Haves from $7
Runway-favorite beauty brands like MILK MAKEUP are on the forefront with this multi-tasking Face Gloss. You can use this product on your lids, cheekbones and even your lips to highlight your best features.
You can also find inexpensive dupes by cult-classic drugstore brands like Nyx Cosmetics. At only $6.99, the Nyx Lid Lacquer will set you back less than lunch! A dab or two of this will enhance your lid color and give you the high-gloss shine you crave.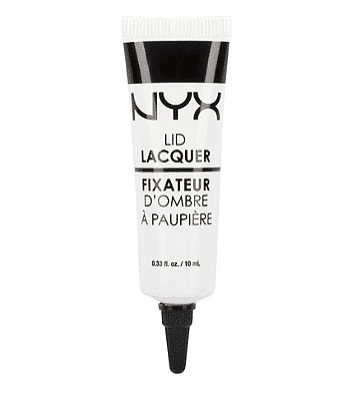 Whether your go-to look is brilliant and bold or sweet and demure, the glossy lid is one beauty trend that works with every style. Have you tried it? Let us know in the comments.