This post may contain affiliate links. See our privacy policy.
Dear Budget Fashionista: I am a plus-sized woman and was just invited to a black-tie optional event in early December. I'm 28 and don't want to look 58. On top of that, I'd like to cover my arms (or at least the tops of them — I hate them!) and disguise my huge belly. Any suggestions?

How to Find a Plus Size Evening Dress that Flatters
Good news! Finding an outfit that's flattering and feels awesome is 100% possible. It may be difficult to feel confident when you envision the shapeless, oft-frumpy pieces that have traditionally dominated the plus landscape. There's a certain maturity about those outfits that isn't necessarily right for the woman who favors a more youthful yet polished look.
Bear in mind that it can be tough, as you probably know. Sometimes the dress that looks fabulous on the hanger looks completely different once you put it on. Turn your attention to stores that carry extensive plus-size inventories of dresses that are designed to celebrate your body tastefully. Try these suggestions on fabric, color and style to keep your search efficient and enjoyable.
Choosing the Right Fabric
Avoid anything too clingy. Not because you need to cover up, but because overly tight dresses get more uncomfortable as the night wears on. And when you find yourself tugging here and there, you get overly focused on your body and the areas you want to conceal.
A tight dress also restricts movement. That can be problematic if you'd like to dance at your black-tie optional affair. Silk's soft drape is a lovely choice for a night out, as are heavier, lined jersies and cotton fabric blends that won't adhere to your body too snugly.
A Color You'll Glow In
You've been told forever that dark colors are slimming and therefore the most flattering. But this rule is soooo passé! it almost seems a fashion faux pas to commit it now.
Base your color selection on what you love and what best complements your skin tone. The holiday season is a time to shine! Think of the brilliant red dress you've been eyeing or the sexy jewel-tone that you can't stop dreaming of wearing. Who wants to wear the tried-and-true blacks and navies in the dead of winter anyway? There are many bright color options out there — have fun with them.
Perfect Fit = Your Best You
What matters the most is fit. You'll look incredible in a wrap dress that cinches at the waist and creates a natural hourglass silhouette. Another option is a sleek dress with a ruched waist that doubles as a corset of sorts. Embrace dresses with deep V-necklines that allow your cleavage to show, and those that feature three-quarter length sleeves. They'll conceal your arms without taking away from the overall posh look of the dress. You can also add a cute cropped dress jacket over a sheath for a stylish alternative.
The Plus Size Evening Dress Top Picks
This Adrianna Papell Chiffon Overlay Shutter Pleat Sheath Dress ($180) was made for you! The airy chiffon overlay helps conceal problem areas, while the three-quarter length sleeves hide your upper arms. It's available in a few shades, including a brazen red that's destined to be a December party favorite for years to come.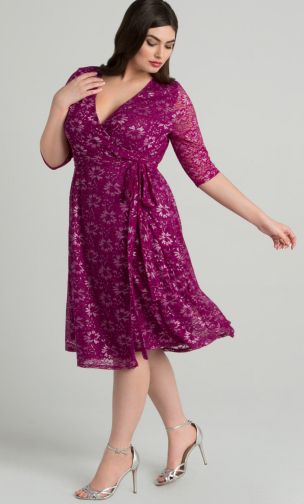 Sweet and sexy at once, the eye-catching Kiyonna Glittering Affair Wrap Dress ($115.20) dress with a traditional knee-length is ideal for your next special event. The vibrant raspberry hue is special-occasion ready, while the wrap style creates a gorgeous, flattering silhouette that will make you feel confident all night long.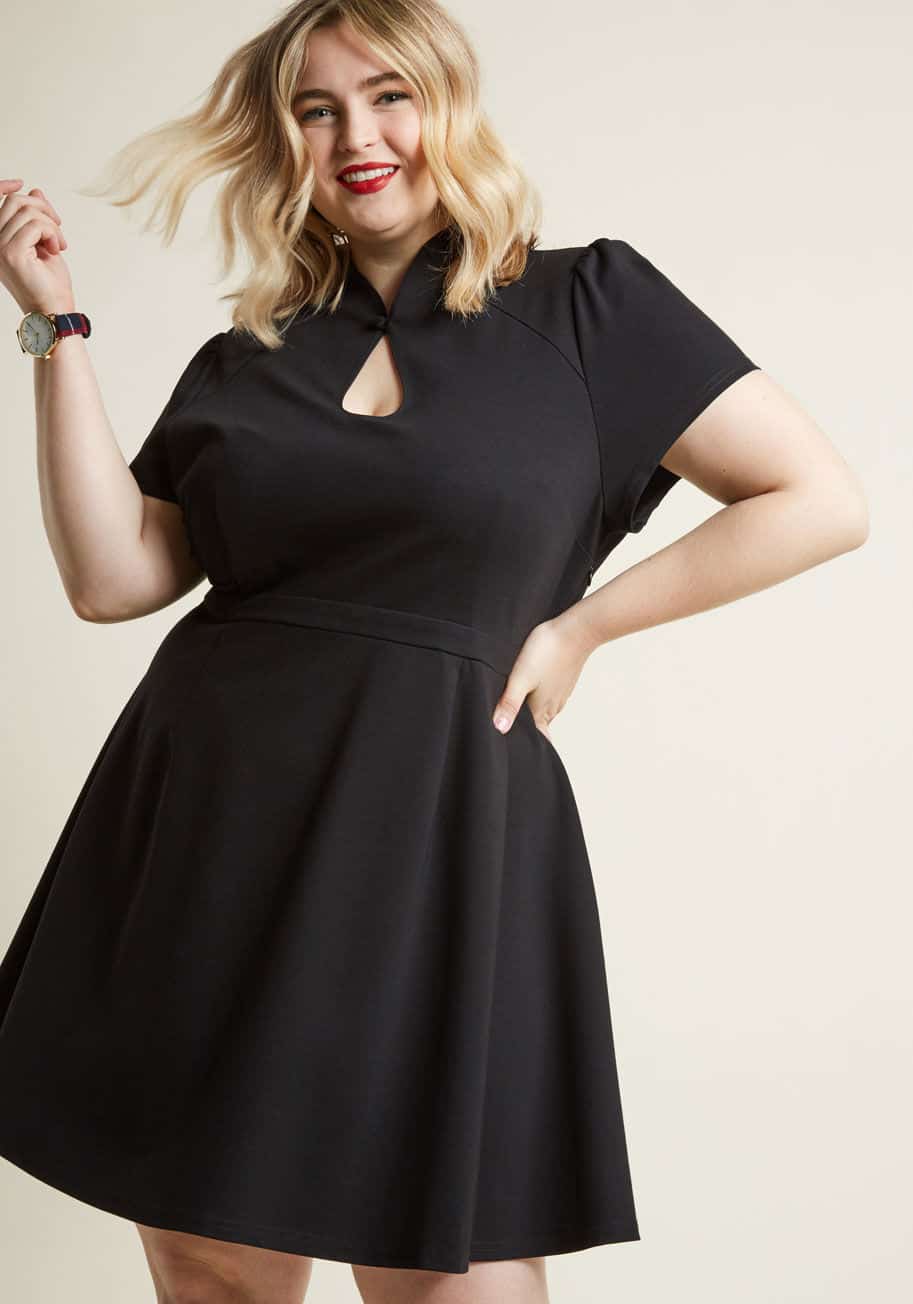 Don't think for a moment that you're limited to conservative styles and lengths. High Society Style's Short Sleeve Dress ($65) features a peekaboo keyhole at the neckline and a cute, vintage-inspired style that takes you back to yesteryear. All for $65 too — a steal.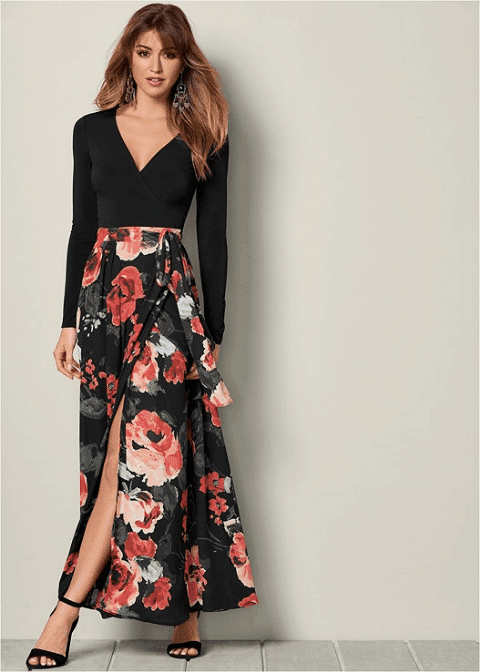 Prefer a little length? This stunner from Venus ($59) will keep you comfortable if it's chilly outside thanks to its long, lean sleeves and full skirt. The deep V-neckline draws the eye upward, while the flattering tie-waist and slit skirt spell endless sex appeal.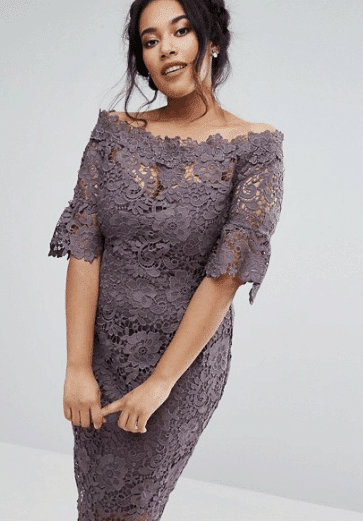 You'll feel incredible in this beautifully designed dress by Paper Dolls ($95) that features a decadent crocheted overlay. That alone is destined to turn heads, but it's the soft charcoal hue, off-the-shoulder silhouette, and comfortable fit that set it apart from the rest.