This post may contain affiliate links. See our privacy policy.
It's time to kill that old New Year's resolution about losing weight. Right? The New Year, New You thing has been disappointing women for way too long. Unless you're under doctors orders to lose weight, you have no reason to stress about what the scale says — because I'll bet you're fabulous just the way you are.
Don't resolve to lose weight this year — the only resolution you need is a body positive one!"
This year, resolve to love and accept your body the way it is. As inspiration, I've enlisted the help of fashion entrepreneur Anne Claire Isabella, owner of Ikapela Designs. Anne, who's been both a size 6 and a size 16, shares how she's kept the self-love going during and after a weight transition.
One Body Positive Journey
Budget Fashionista: Anne, can you introduce yourself to the Budget Fashionista community?
Anne: Sure! My name is Anne Claire Isabella. Isabella in Hawaiian is Ikapela, hence the name of my store: Ikapela Designs. I'm 53 years young and love my life. I've been married for over 32 years and have three wonderful grown children and one grandson with another grandchild on the way…HOORAY!
Professionally, I've been working from home for the last 10 years. I used to be a Merchandising Manager (a fancy phrase for buying things with other people's money). I love it.
Then my husband and his business partner needed a third wheel as their business was growing. I was a perfect match. Over the years I tried different things to stay busy in my "off time," — painting, writing, photography. Had fun but eventually found sewing. I'm self taught and literally started sewing five years ago. That's when I started selling my clothes on Etsy, and now on AmazonHandmade.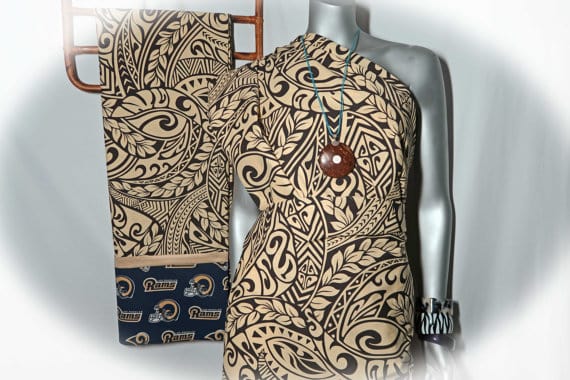 Budget Fashionista: I know you managed through a weight transition. Can you describe how your weight changed and over what period of time?
Anne: When I got married I weighed 120 lb. and wore size 6. I've always had a large okole (rump) and I considered it my biggest ASSet. 🙂 I never realized how good food could taste (sorry mom!…she fed us healthy and proper portions) until I met my husband. He was in the restaurant business at the time. I started to gain a little weight, to maybe a size 8 or 10.
Then I started having children. After my first I was just starting to lose the weight when I got pregnant with my second child. Then life got really busy between work, home, children, etc. Ten years after my second, we had our last child. At that point, I was a size 12 or 14, but still felt healthy and happy.
Over the years of eating lunch with the boss or buying fast food I gained more weight. I still did well on my physicals though, with good cholesterol levels and blood pressure. I was never into exercise either. No one in my family was.
Budget Fashionista: Did you ever feel panic about the weight?
Anne: I can literally remember the day I thought, 'I think I'm getting fat.' It was the morning after a weekend of holiday parties. My fingers were swollen and my rings felt tight (I never take my rings off). I lifted my head to stretch and wondered why I could feel the back of my neck with my head. Yikes, my back was fat.
Budget Fashionista: Some women who gain weight go through a grieving period of sorts for the "way they were." Did that happen to you?
Anne: Over the last 10 years, the one thing I complain about is not being able to wear my heels any more. When I started gaining weight, I developed Plantar fasciitis so I started having to wear Jesus sandals exclusively. I liked them and more importantly, they are good for your feet. Heels on the other hand are not good for your feet. They're good for your ego, which is probably why I miss them sometimes.
When I think back at all the times I was thin, the only regret I have is that I didn't take advantage of being thin. I always wore loose-fitting clothes. But I was so thin I don't think I looked healthy at all.
Budget Fashionista: What advice do you have for women who are experiencing weight gain?
Anne: Eat right, try to exercise, drink modestly and most important…be happy. Think happy thoughts. Surround yourself with positive people.
If you hate your job: QUIT! You WILL find a new job because you're motivated to BE HAPPY!
Find clothes (like from my store) that scream: proud, happy, fun, comfortable and affordable. Wear good shoes. You'd be surprised how far shoe makers have come with nice-looking shoes that are still good for your feet. Yes, even heels.
Budget Fashionista: What does the phrase 'body positive' mean to you?
Anne: Body positive means you love yourself. You do have to LOVE YOURSELF. Every curve, every wrinkle, every sun spot, every fold, every gray hair and every part of your body.
My arms work, my legs work, my eyes work (with a little help sometimes), my digestive system works (again, a little help sometimes). Yes, sometimes my weight doesn't work (like in a size 12 or 14) but it will fit in a size 16 or 18. And that's a good thing!
Budget Fashionista: Some women I know treat weight gain as a "thing to be dealt with," rather than a part of life. Have you experienced the same? Why do you think women react so strongly to weight gain?
Anne: Society tells us that we should be tall, thin, tan, blonde and sweet as pie. YEAH RIGHT! I'm not sure where that village is, but I live in the real world.
Sometimes I do think, "I have to do something about this weight." But then life, real life, slaps me in the face and says, "hurry up, you've got better things to do." Like work to pay for shelter, transportation, insurance. And love my husband, children and grandchild even more than yesterday. And be there for family members going through worse things than being overweight, like cancer, loss of a loved one, divorce, etc.
When everything else in our lives is going well, I guess that leaves our weight to be next on the list. But does it really need to be if we're healthy, happy and functioning in our lives?
Budget Fashionista: Your weight gain led to the launch of your business. Can you share more details about that evolution?
Anne: When I stated my store I made pillowcases, pillow covers, etc. When I moved to apparel, I thought, what is my niche? Everyone says you have to have something that is needed, wanted and not as easy to find as, say, bubble gum.
My niche is apparel for "real women." I live in a community where my size 16/18 is average, or even on the smaller side.
I've literally only had two requests in the last four years for a size small for my blouses. If anything, I've had several requests for 5XL blouses, which I've filled and they loved them.
Budget Fashionista: Your Etsy store has amazing reviews — your customers clearly love you and your products. What's your secret?
Anne: My secret is the personal touch. I acknowledge receipt of each order immediately with an email or, as Etsy calls it, a convo. I send out the orders right away, wrapped in lovely tissue. I include a hand written note, my business card with a discount code written on the back and a little something extra (you'll have to order something to find out what that is).
Even my packaging includes a Mahalo (thank you) stamp and/or sticker. I often double-check with my customers to make sure my item will fit given the measurements I provided on the description.
Readers, you can shop Ikapela Designs here.
I love Anne's story and hope you did too. Here's to body positive resolutions for 2017! Now I'm going to go find and donate all of my 'target weight' clothes!