Surprise — Christmas is days away. If you haven't finished your gift shopping yet, you're running out of options. Not even your Amazon Prime membership can help you now. Trust me. I've scoured through Amazon pages looking for gift ideas that will arrive before Christmas. They've all disappeared as of a few days ago. (BTW — Anyone but me notice that Amazon Prime's two-day shipping just isn't a thing anymore??!)
At this point, you must walk into a store to finish your gift shopping. You could do it the old-fashioned way. Drive to your local Target, Best Buy, Walmart, etc., and spend hours wandering the aisles, looking for minimally acceptable gifts among sparsely populated store shelves.
That doesn't sound fun.
This post may contain affiliate links. See our privacy policy.
A more efficient option, in my opinion, is to buy online, pick up in store (aka BOPIS). Don't get me wrong — you'll still spend too much time searching for available products. With the global shipping crisis and all, it's slim pickins out there. But at least you can do your last-minute shopping from the comfort of your own home, with refreshments close by.
Here's a list of stores where you can BOPIS (yeah, I just made that acronym a verb…). Buying online and picking up in store may be your last chance to save face with your giftees this year.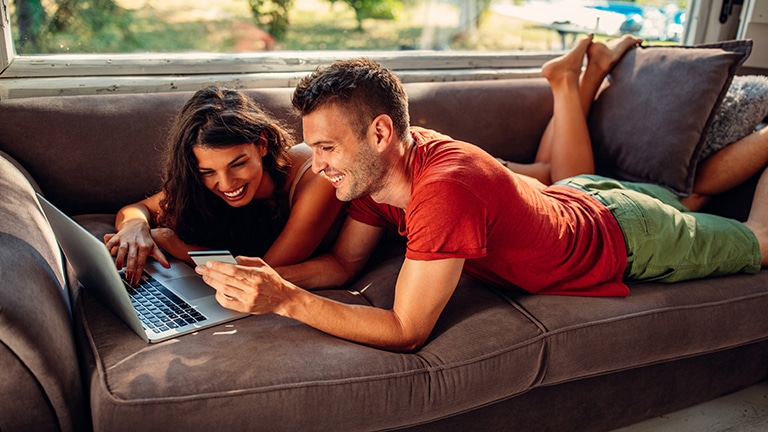 Buy online pick up in store same day at these 9 retailers
1. Walmart
Shop Walmart last-minute for beauty gift sets, apparel, and accessories.
Check Walmart.com or the Walmart app for available pickup times. Walmart also offers express delivery within two hours if you order by 1pm on December 24.
2. Target
Target has books, movies, a modest apparel collection, and small kitchen appliances still available for buy online, pick up in store. You can also find beauty-related stocking stuffers like nail polish, loofas, and body scrub.
You can schedule to pick up your order in a store from Target.com. For curbside delivery, use the Target app.
3. Bed, Bath & Beyond
Bed, Bath & Beyond is offering a 20% discount on your entire purchase with store pickup. Even better, your order should be ready for pickup within an hour.
I used Bed, Bath & Beyond's BOPIS last week and it was super easy. They notified me via text message when the order was ready and walked my item out to the car when I arrived.
4. Walgreens
Order online from Walgreens and you can pick up your products in as fast as 30 minutes. You can find some fabulous gifts within Walgreens' extensive beauty collection — since, you know, no one wants to unwrap toilet paper.
You can shop Walgreens online or in the Walgreens app. You'll receive a notification when your order is ready and you can pick up in store, in the drive-through, or curbside where available.
5. DSW
You probably don't want to buy shoes as gifts, but DSW.com does carry some nice accessories. Use the code INNOUT through December 24 to get 15% off curbside and in-store pickup orders.
DSW gets most BOPIS orders ready within two hours or less.
6. Old Navy
OldNavy.com, like DSW, promises to have your order ready within two hours.
You already know Old Navy has a huge selection of fashion basics — sweatshirts, t-shirts, leggings, etc. — that can make fun gifts. Also take a peek at the gender-neutral selection, pajamas, and slippers.
7. Kohl's
You could possibly find gifts for several friends at Kohls.com. The department store has jewelry, clothing, accessories, beauty items, and home décor pieces.
Your order will be ready in two hours or less. And, you can choose from contactless drive-up service or in-store pickup.
8. Sephora
When in doubt, a beauty gift fits the bill for the style-minded ladies in your life. Plus, you can earn or redeem Sephora loyalty rewards in the process.
Sephora.com fulfills BOPIS orders within four hours. Most locations offer curbside service as well as pickup in store.
9. Ulta
Ulta is slightly speedier than Sephora. Use Ulta.com and your buy-online, pick-up-in-store order should be ready for pickup within two hours if you order by 6pm. Note that in-store pickup is not available at Ulta on December 25.