Figuring out how to dress for a cocktail party can be challenging. Back in the day, there were clear rules. Ladies wore knee-length skirts with gloves, for example. But modern life has grown ever more casual, and taken cocktail party style along for the ride.
That evolution from formal to casual has opened up the range of acceptable cocktail party outfits. In truth, you can wear a huge variety of garments to a semi-formal party. So much so that you'll need an idea of what you want before you start shopping. Without some sense of direction, you're headed for a frustrating and, possibly, expensive experience.
Read on for five steps to building the perfect cocktail outfit, plus five pieces that'll inspire you to get shopping.
This post may contain affiliate links. See our privacy policy.
Dress for a cocktail party in 5 steps
1. Start with the right piece
The primary garment in your outfit sets the tone. To be clear, the right tone for a cocktail party is two parts dressy, one part friendly, and one part mysterious. Cocktail parties are for mingling, so you want to cultivate a welcoming, "get to know me" vibe — without being too pretentious or too needy.
The $160 dress from Anthropologie demonstrates this vibe perfectly. It's intriguing and practically invites conversation from strangers. All you need to add is a smile so it's friendly over intimidating.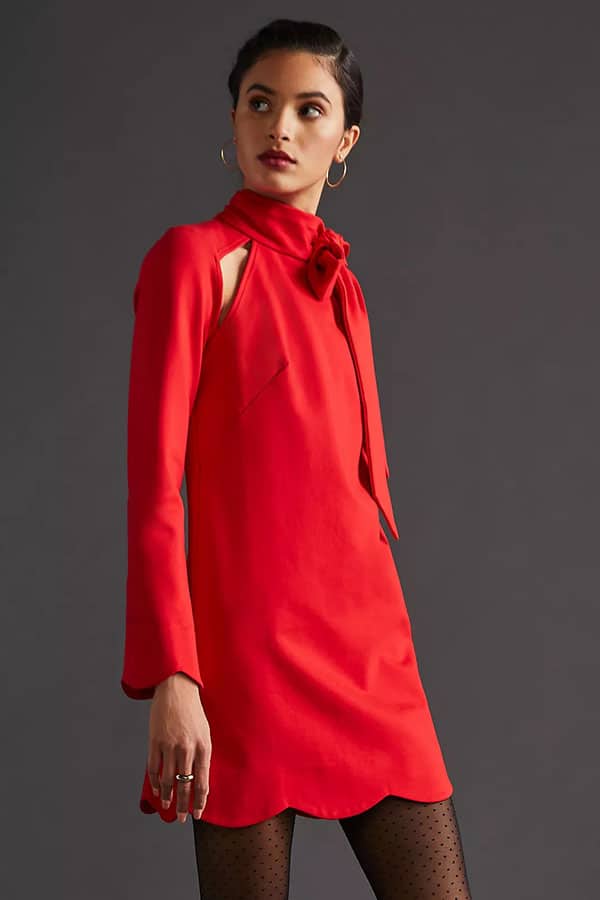 If you take a misstep with your primary garment, you'll have trouble pulling the whole thing off. Jeans, for example, are an obvious no-no. You show up in jeans and everyone who bought a $300 dress for the occasion will feel disrespected.
Also steer clear of bodycon and bandage dresses, mini skirts, and cutouts or revealing hemlines.
What pieces do work for a cocktail party? The right dress for a cocktail party may not be a dress at all. Midi dresses and semi-formal baby doll dresses fit the bill, but so do jumpsuits and dressy, wide-legged pants. You could also don a skirt if you choose the top wisely. (Whatever the fit of the skirt is, go with the opposite for the top. A flowing skirt goes with a fitted top. A tight skirt goes with a looser top.)
To narrow your choices down more, think about color. Experiment with color. Brighter colors stand out against the sea of LBDs. Turquoise, orange, baby blue are all acceptable color choices. Even white is an option if you dare.
The Eliza J jumpsuit below is a great example of experimenting with color. (Also, it's only $54 at Nordstrom Rack!)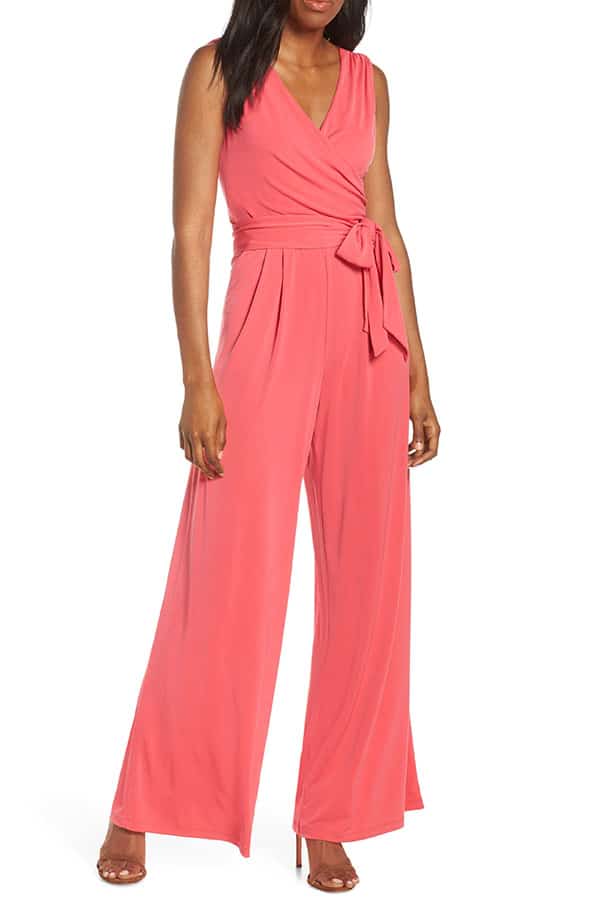 Of course, if you're not sure, you can always wear black. If you go that route, plan on adding color or texture with your accessories.
2. Check your hemlines and necklines
Imagine showing up to a cocktail party and realizing your neckline is too deep or your hemline is too short. Awkward. You will surely mingle with the men, but most of the women will snicker behind your back. Sad, but true.
Skip that scenario by double-checking the hemlines and necklines before you buy that garment. Try to think objectively about this — which is admittedly hard when you find a garment that looks amazing on you. Set aside how hot you are for a second and evaluate how revealing that piece is. If you have more than an inch of cleavage or upper thigh showing, you might keep shopping.
When it doubt, go for a midi-length piece. It's classy and always on point for a cocktail party. The navy dress below is an example — sexy and classy at the same time. You find this piece at Verishop for $148.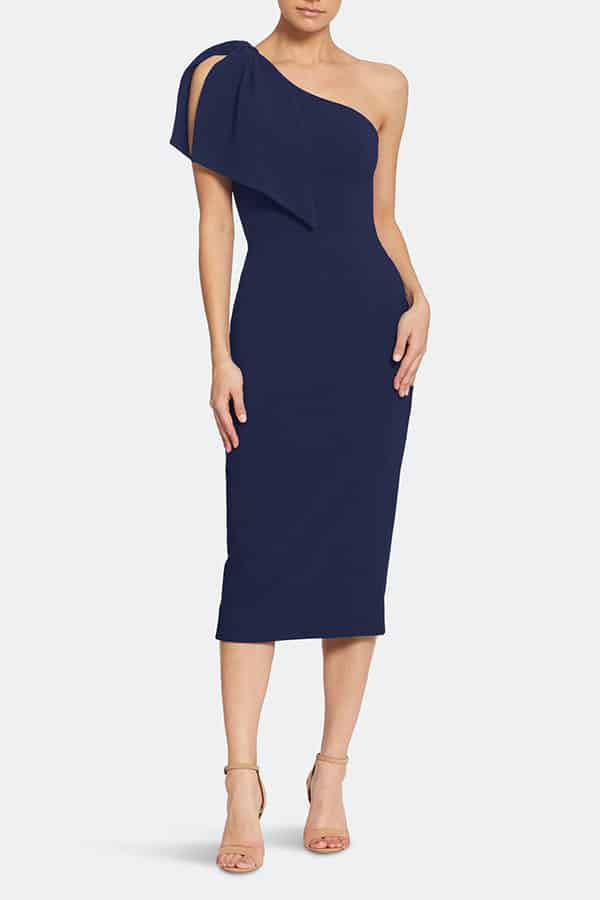 3. Add shoes
A delicate strappy sandal is a favorite choice for cocktail parties. You could also wear a closed-toe pump if your pedi needs some love. If you don't care for a tall heel, a kitten heel works too.
You can wear a black or silver shoe, of course. But a shoe that's nude or has clear straps will make your legs look loooong. The shoe below from DSW is super versatile and priced right at $99.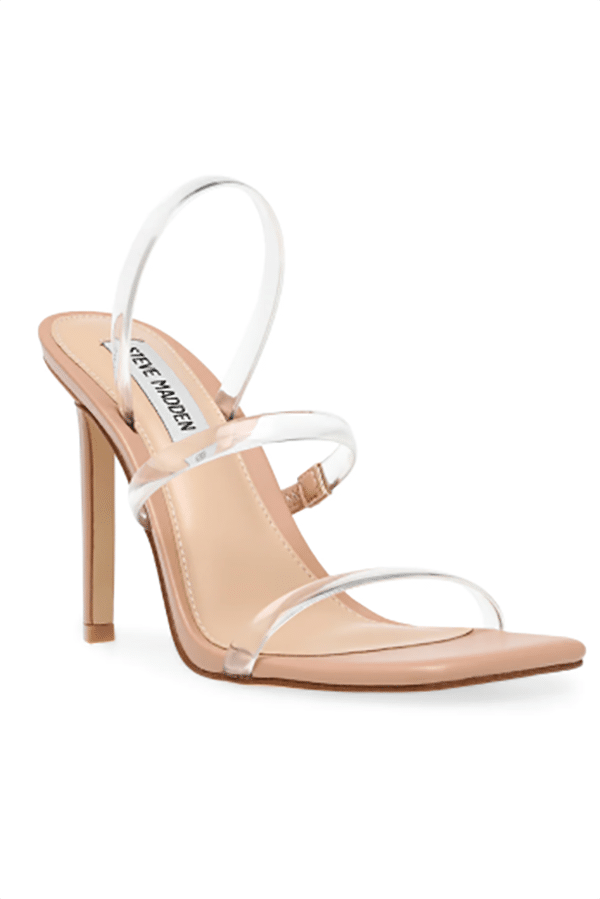 Ankle boots, tall boots, OTK boots, and sandals with thick straps are not good options for a cocktail party. Really, any shoe that has any bit of chunkiness to it is probably too casual for the occasion.
4. Accessorize (lightly)
Often, you don't need more than two accessories, three at the most. One is your clutch. Use that piece to balance out your color palette. If you're wearing an LDB, carry a bright clutch. If you're wearing navy, a silver clutch would look fantastic. If you're wearing a bright color, reach for a neutral clutch. You get the idea.
If you don't want to invest in a bright red handbag you'll only use once, use texture instead of color to add interest. Beads or sequins will do the trick. You can pick up the Nina Keiko clutch below for $55 at Belk.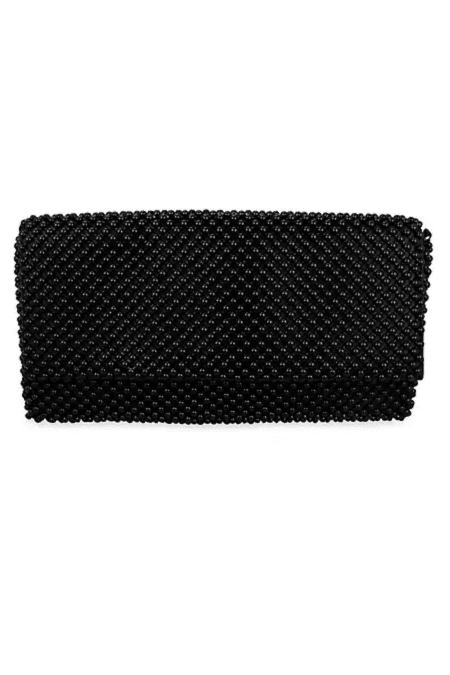 Beyond that, keep accessories limited to one or two pieces of jewelry. A pair of diamond studs could be sufficient. You might add a delicate bracelet if you just got your nails done. Or a necklace may be the right choice if you're wearing your hair up.
5. Choose your undies wisely
Head off wardrobe malfunctions by wearing your cocktail party outfit around the house. Practice sitting, standing, using the bathroom, etc. Figure out where your dress bunches, sticks, hangs weird, whatever. Then remedy the issue with the right undergarments.
A snug shapewear piece often solves those issues — and creates smooth, sexy lines so your cocktail party dress hangs perfectly. Purchase a few options from stores with good return policies so you can test them out before the big party.
If shapewear doesn't fix the problem, take your dress to a tailor and get professional help. This is usually an inexpensive update that's well worth the cost.