Holiday shopping is about to get real. Retailers have been through some tough times lately and they're eyeing the holiday season as an opportunity to bring in some cash. Sadly, you and me are the marks. We will see all the usual tricks to lure us into spending more — bundle and BOGO deals, the loss leader trap, and pricing everything so that it ends with $0.99 so it seems cheaper than it actually is.
This post may contain affiliate links. See our privacy policy.
How do you feel about turning the tables, maybe saving hundreds or even $1,000 on your winter shopping? Here's a look at how to save money on holiday shopping 2020, and it's all based on a little insider knowledge that'll give you the leverage you need to make some deals.
Consumers less sensitive to prices
So, let's talk about markup. Markup is an amount that's added to a product's price over and above its cost. Markup covers overhead and profit for the retailer. In my opinion, markup in itself isn't evil — businesses exist to make money after all. If retailers and brands want to quadruple prices to fund their profits, that's their choice. But that doesn't mean that we as consumers have to accept it. It's our choice to shop elsewhere just as it's a business' choice to set its own pricing policy.
Of course, our choice to buy or not to buy from a brand or store would be far more straightforward if we had more insight into those pricing policies. Most of the time, we make a value judgement based on what we've learned from years of shopping. We decide that a garment or pair of shoes: 1) seems like a good buy or 2) it doesn't. We usually come to that conclusion based on the price as it relates to the brand, quality, and style of the piece. It's educated guesswork.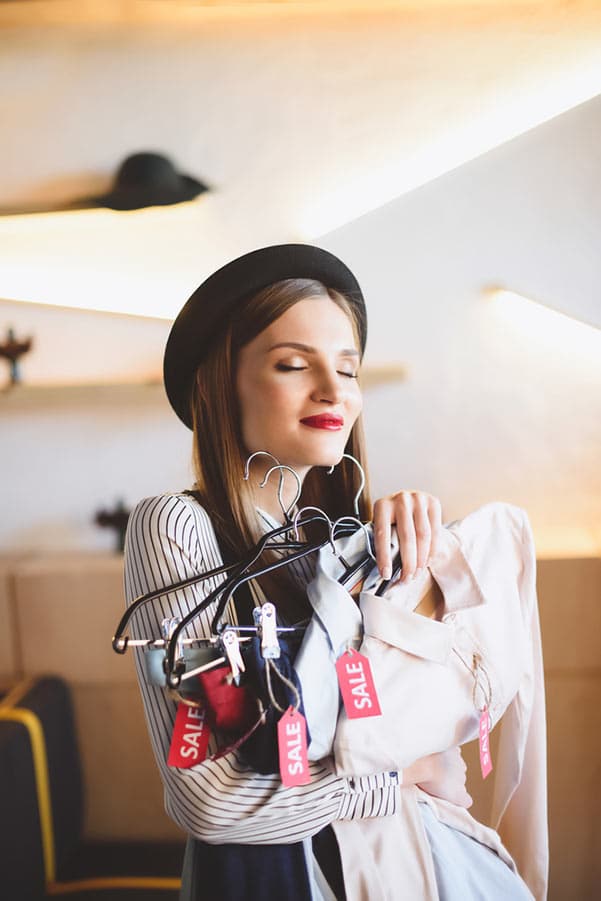 What's interesting is that data show we (consumers in general) are more accepting of higher prices than we used to be. A paper by some smart people from Georgetown, Harvard, and DICE concludes that average markups have increased by 25% between 2006 and 2019. That happens because we allow it to happen.
Our estimates indicate that consumers have become less price sensitive over time.

Rising markups and the role of consumer preferences. Dopper, MacKay, Miller, Stiebale.
Of course, we shoppers aren't blindly accepting higher markups. There is some retailer manipulation involved. The tactics include:
Retailers mark up prices before labeling them 75% off, for example.
Brands enforce manufacturer's advertised pricing (MAP) — which is the lowest price a retailer can advertise for a product.
MAP subtly convinces you that a pair of Jimmy Choo ankle boots are indeed worth $1,000, because every retailer on the planet apparently sells them for that price. And so, when you see a pair of Jimmy Choos tucked away on the clearance rack for $500, it looks like a fabulous deal. Only, what if those shoes only cost $100 or less to make? Then the deal doesn't seem that great after all.
Crazy high markups on fashion and beauty
According to Andrew Scarbrough, co-founder of PriceWaiter and collaborator on Markup Mayem by The Pearl Source, markups on women's fashion can range from 60% to 300%. Scarbrough tells me the worst offenders are shoes, accessories, and denim. "In some cases," Scarbrough explains, "a pair of denim pants can wholesale for $20 while retailing for over $150." Here are some additional markup stats that will blow your mind:
Jewelry markups are usually in the 100% to 250% range.
Cosmetics are typically marked up 300%.
Sunglasses are regularly marked up more than 1000%.
Handbags are marked up 1000% to 2000% — that's up to 20 times more than they cost to make.
The Big Takeaway here is that you, as a consumer, have more leverage than you think. Especially with respect to designer goods, there are excess profits in those big markups and that gives you some negotiating power to secure a lower price. Here are seven ways to trim down the markups you absorb and save big money this shopping season.
Holiday shopping: 7 ways to slash markup and save $$$
1. Negotiate this way
You're already a savvy budget shopper, so I don't have to tell you to comparison shop. You know exactly what the standard pricing is on that handbag you want, and you have a Shop It To Me sale alert set up to ping you when the bag goes on sale.
Sadly, if MAP is a factor, you won't ever get that sale alert. The bag won't be advertised for a lower price.
But here's what you need to know. MAP only prevents a retailer from advertising the lower price. It does not prevent the retailer from selling that bag to you at a lower price. Leon Rbibo, President of The Pearl Source, explains this in more practical terms:
Screw the advertisements, particularly for luxury brand-name products. Often times they are meaningless.

Leon Rbibo, The Pearl Source
What you can do instead is walk into the retailer and ask for a lower price. Granted, that may not work at Macy's or H&M — though you might get an employee discount for your boldness. But in smaller outlets, you can negotiate pricing.
Markup Mayhem estimates that negotiating directly with a retailer can save you 15% off cosmetics, 34% off sunglasses, and 56% off mid-range watches. Those percentages can add up to hundreds of saved dollars over the course of a holiday shopping season.
If you prefer a more anonymous form of negotiation, check out PriceWaiter. The website allows you to make offers on watches, sunglasses, small appliances, cookware, and electronics.
2. Shop your clubs and direct-to-consumer brands
Another strategy to sidestep some markup is to shop wholesale clubs and direct-to-consumer brands. Sam's Club and Costco have long been two of my favorite shopping destinations, not only for giant cans of black olives, but also for low-cost jeans, sweaters, UGGs, activewear, and jewelry. But there are two more wholesale clubs I'd recommend to anyone who buys a lot of fashion and beauty products:
Italic is a membership site that sells clothes at wholesale. See my Italic review.
Beauty Pie is a membership site that sells beauty products. See my Beauty Pie review here.
Direct-to-consumer brands are a second option. You won't have membership fees, but product pricing might be higher than you'll find in wholesale clubs. Some of my favorite direct-to-consumer fashion brands are:
3. Buy used
Clothes are like cars in that they depreciate quickly. Right now I'm eyeing a Prada bag on Poshmark that's priced $1,000 below its retail price with no visible wear and tear. Poshmark and ThredUP are literally loaded with almost-new, low-cost designer finds.
And yes, you absolutely can gift a used piece you bought on Poshmark to your style-minded friends. Any true fashionista will appreciate a hardly used designer piece that you chose just for her.
4. Wait
I love this next tip from Rbibo. He advises bargain shoppers to avoid buying any style that's trending on social media, at least until the hype dies down. Rbibo says larger retailers have complex algorithms that take in many data points to predict the price that consumers are willing to pay. Among those factors considered is a product or brand's social influence, based on how it's trending in celebrity gossip magazines, TV shows, social feeds, and the like.
In other words, when a product is hot, the price goes up. Call it a hot product premium.
You can avoid that premium by waiting until the demand cools off. Alternatively, you can save your promo codes. Once a product gets hot, you're not likely to find any new promo codes to lower the price. But if you have a promo code on hand that was published a week earlier, the retailer generally has to honor it.
5. Price shop from different devices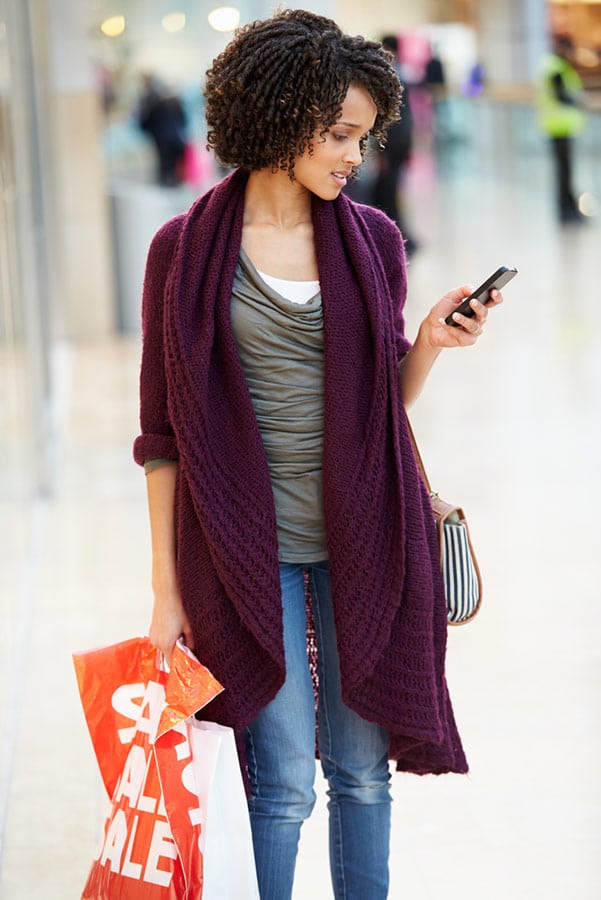 Speaking of those price algorithms, they can influence the price that's shown to you online based on where you live or the device you use. Rbibo recommends price shopping from different devices and even locations to see if you can access a lower price.
You might try checking prices on your phone, tablet, and computer for example. Also, switch to your cellular network instead of your home WiFi. You can also open a private browsing window to see if that makes a difference.
6. Tease 'em
As you're price shopping, go ahead and put the item in your online shopping cart. Just don't buy it right away. Wait 24 hours to see if the retailer targets you via online ads or email. Sometimes those ads will include a discount code to encourage you to finish the purchase.
7. Buy early or late
You'll probably find the most aggressive sales and savings opportunities at the very beginning and very end of the shopping season. The "early" season starts now and runs through Black Friday and Cyber Monday. If you don't finish up your shopping by then, you stand to save the most by waiting until the last minute.
In the last days before Christmas, retailers are in "do or die" territory. Either they'll reach their goals for the year and for the holiday shopping season or they won't.
Rbibo believes that many retailers in those final days of the season will choose to sell an item at a 2% margin vs. holding that inventory for another six months. That might be the perfect time to ask for a deal even if you don't see one advertised.