This post about harem pants is sponsored by Buddha Pants. All opinions are my own.
So, harem pants. I'm wearing a pair right now and I gotta say, they're pretty great. Lightweight, comfortable, and their own brand of chic, harem pants tick the most important boxes on my fashion checklist.
Now is the right time to experiment with this style, too. Athleisure is still wildly popular, even as the aesthetic evolves to be more fashion forward. Turns out, I'm not the only one who wants my clothes to be wearable, practical, and stylish. Fashionistas everywhere are buying up pieces that are versatile enough for working out or going out. And the modern harem pant fits right into that mix.
For those reasons, I jumped at the chance to style harem joggers and a jumpsuit by Buddha Pants. The Buddha Pants collection is made entirely of lightweight, organic cotton that drapes beautifully enough for almost any occasion — from a jog around the neighborhood to a wild night of dancing.
To prove it, here are five looks I made with clothes already in my closet plus the Buddha Pants Miami Jogger in macchiato and the Buddha Pants Savannah Jumper in black.
1. To the office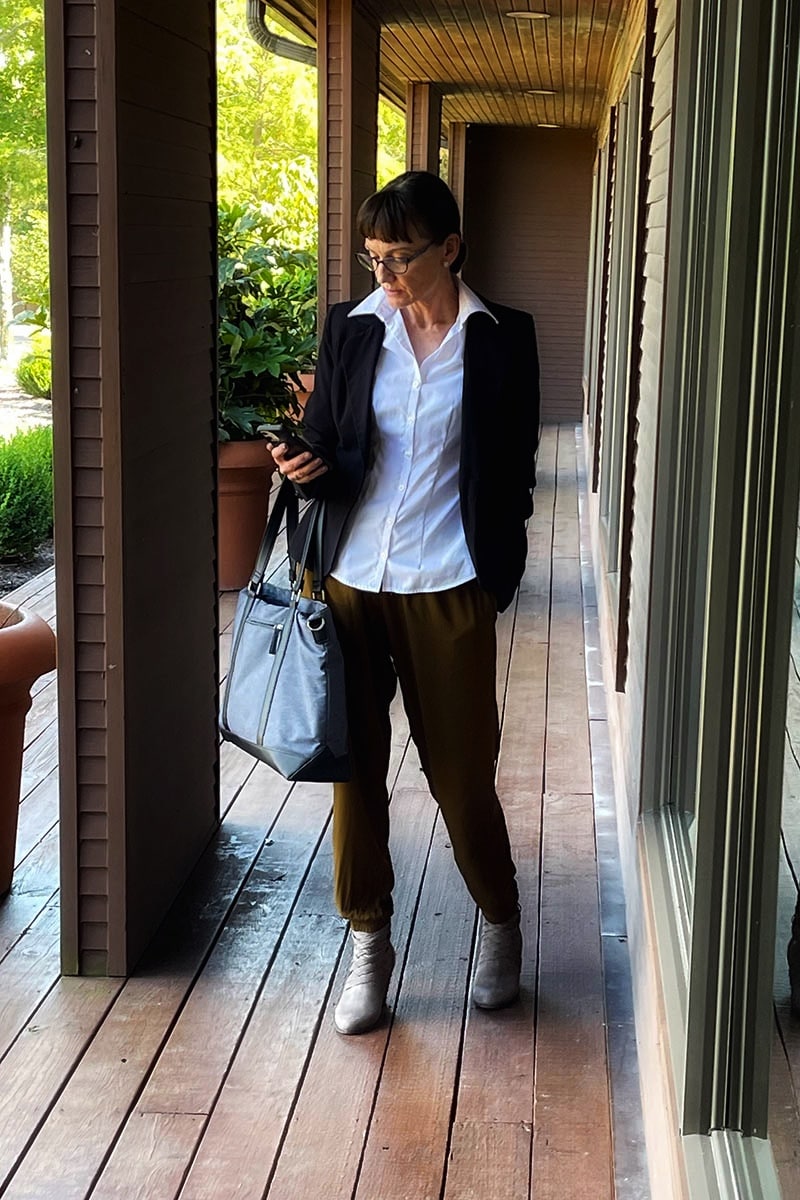 As long as your employer isn't ultra-conservative, a solid-color harem pant could be your new favorite workwear staple. The loose, lightweight pant fits right in with a softshell blazer, white button down top, and ankle boots. I added a tidy bun hairstyle, too, since my hair can be a little all-over-the-place when I leave it down.
If you work in a creative environment, you could also team your harem pants with a patterned, cap-sleeve blouse and flat-soled sandals or mules. That would be a nice change of pace if you're in a dark-wash jeans rut during your workweek.
2. Day out with friends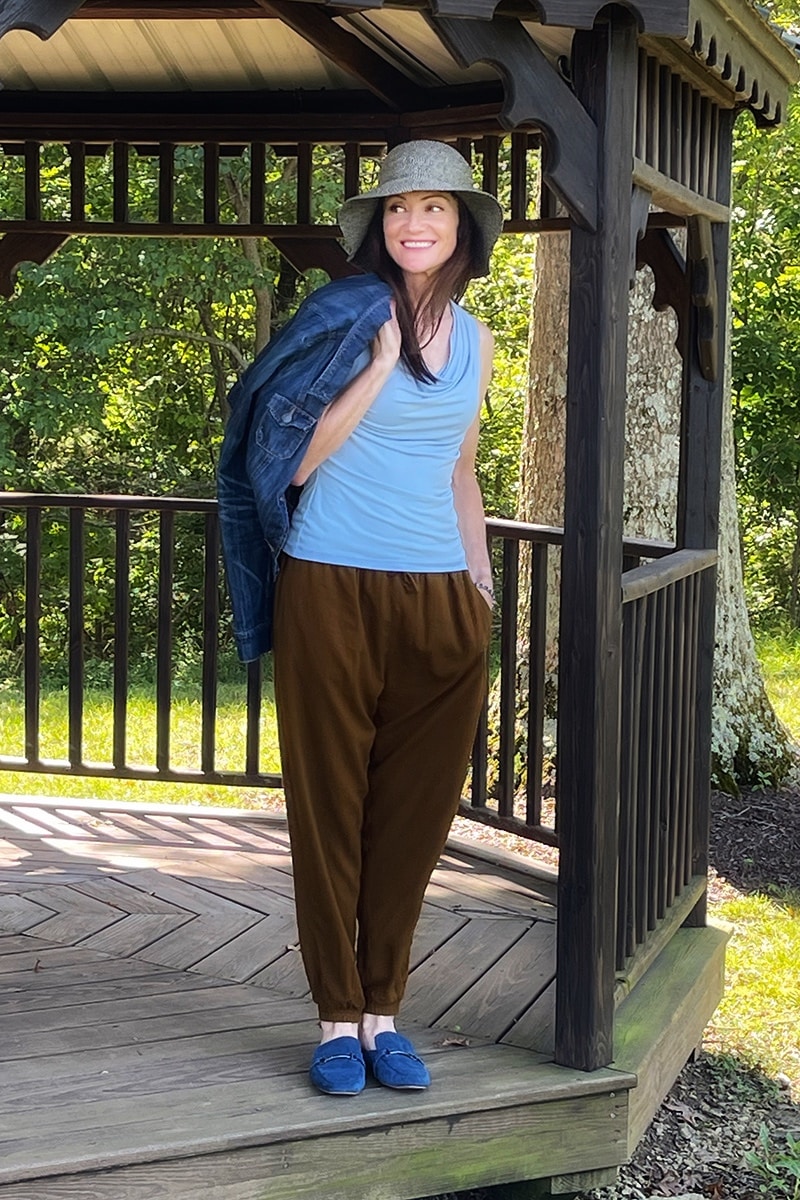 For meeting up with friends for lunch, I paired my harem pants with a clingy, cowl neck top in baby blue and darker blue, slip-on loafers. A soft, shape-hugging top balances out the fullness of the pants beautifully, without taking away from the relaxed vibe.
As far as shoes go, harem pants are more versatile than joggers. The pants are lightweight enough to go with a heel and casual enough to look amazing with flip flops.
I tried on almost every shoe I own with these pants — and the only styles that didn't work were boots that rise above the ankle. I would also avoid a kitten heel as it feels too reminiscent of I Dream of Jeannie (for those of us old enough to remember the show). But mules, slides, low heels, and tall heels can all anchor a harem pant stylishly, depending on the occasion.
3. Lake party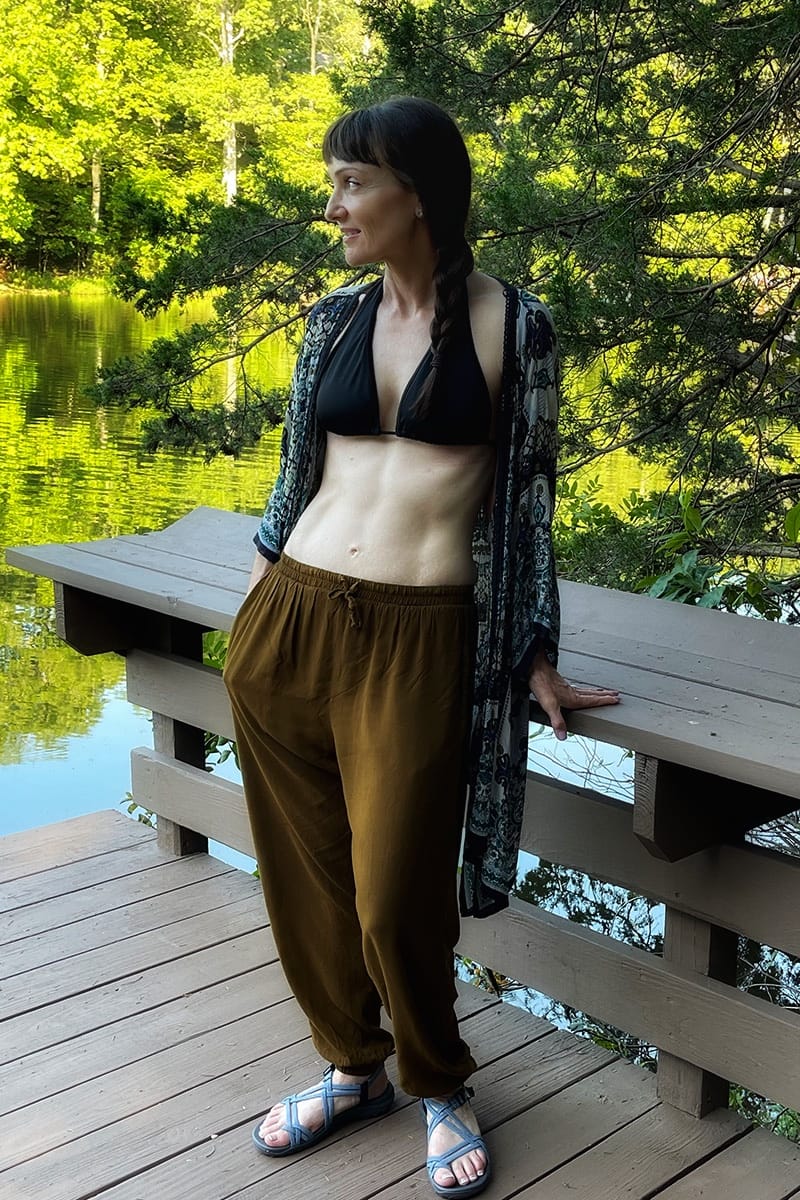 You can also wear your harem pants as a swim cover-up, for super-hot beach and lakeside looks. I paired mine with a simple black triangle top, lake sandals, and a kimono I bought a few years back.
You could easily sub in a one-piece suit for the triangle top here and be the most stylish lady on the dock. Tankinis and bandeaus would work, too. Actually, the only suit style I can think of that might be awkward over a harem pant is a high-waisted bottom.
4. Running errands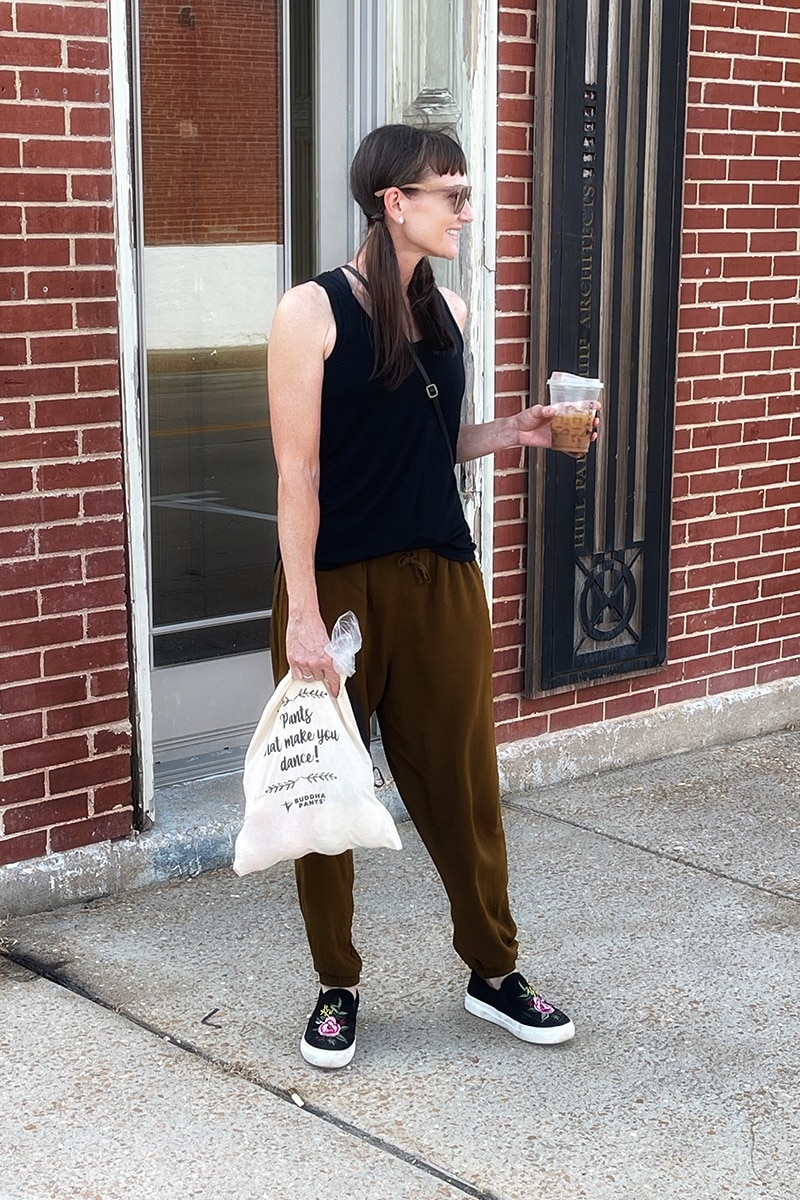 Confession time — my most worn harem pant outfit is a casual tank-and-sneakers combo. I do a relaxed tuck with the top just so I'm not overtaken with fabric. If that shape doesn't work for your body type, experiment with different hemlines and fits on your top.
The general rule is if an outfit looks unflattering, it's usually because the garments are out of balance. Since harem pants are relaxed in fit, they should naturally balance well with shorter, tighter tops.
Shop the Miami jogger here.
5. Night out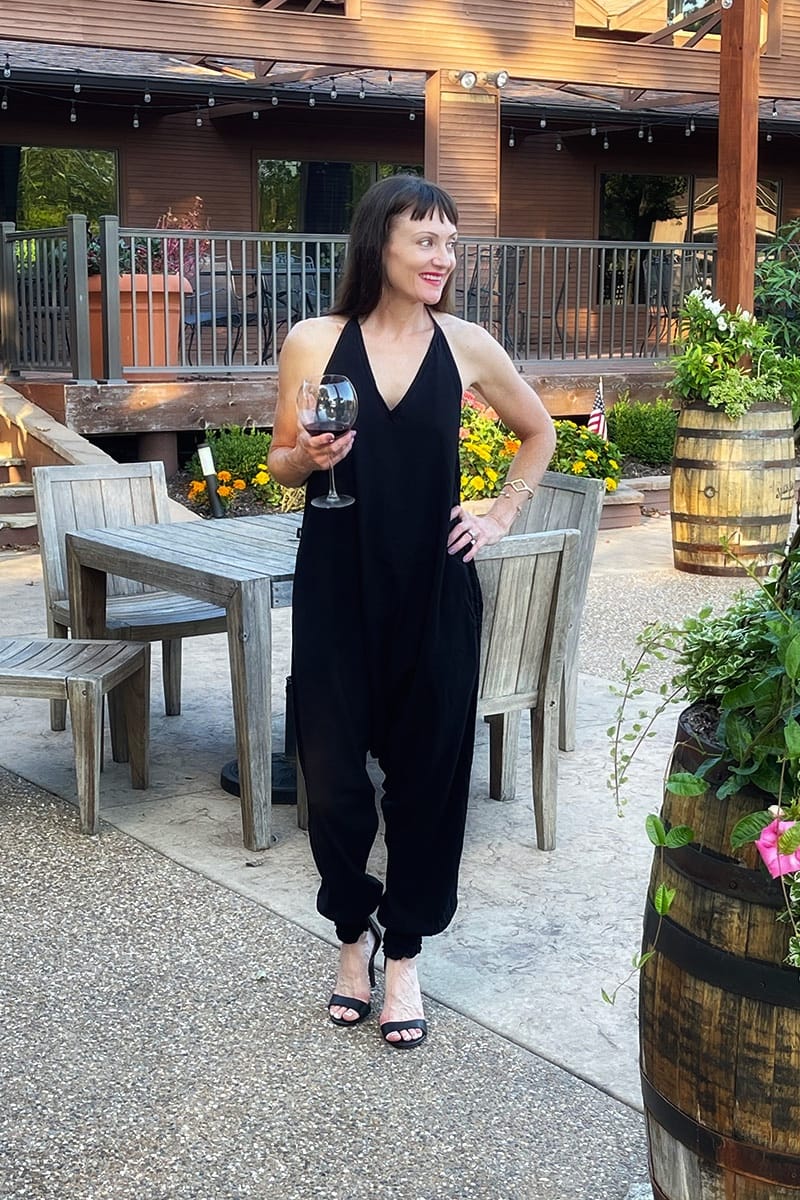 I love, love, love this black Savannah harem jumpsuit. It delivers head-turning style on its own — I only contributed a pair of heels, two cuff bracelets, and my favorite red lipstick.
The jumpsuit ties at the back of your neck, so you can adjust how bold you want to be. Tie it looser for a deeper neckline and a lower backline. Or, tie it tighter to keep things more mysterious. I don't mind showing a little skin, so I went for a midrange length on the tie.
I've also worn this jumpsuit successfully with a flat black sandal. That's more of a house party look — still dressy and chic, but a little less flashy than the stiletto.
Shop the Savannah jumpsuit here.
For any occasion
Harem pants can easily take you to the office, beach, or the club, with all the comfort you expect and a huge dose of style. Plus, they're lightweight enough to follow your shape beautifully, which makes them incredibly flattering. To see more fun harem pants looks, follow Buddha Pants on Instagram, Facebook, Twitter, or Pinterest.